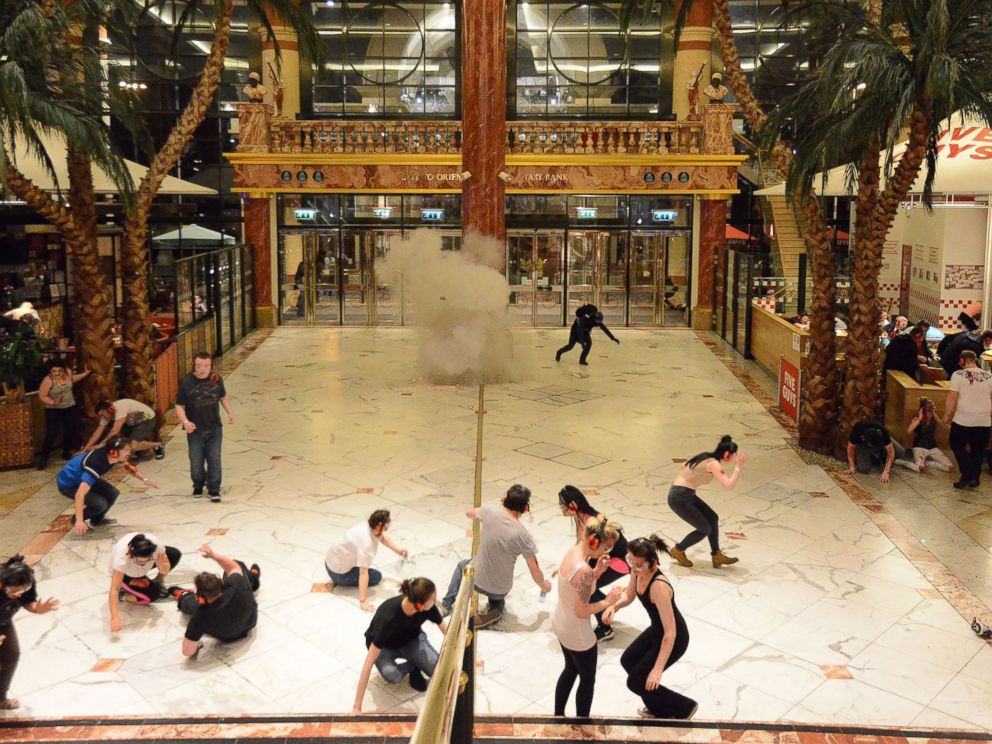 A simulation of the moment a suicide bomber detonates an explosive inside a shopping center in Manchester, England on May 10, 2016.
A
police chief has been forced to apologise for featuring a fake Muslim shouting "

Allahu Akbar"

in a major counter terrorism training exercise against Isil.
The exercise had depicted a suicide bomber detonating explosives and opening fire in the middle of a busy shopping mall.
But critics claimed the depiction of the terrorist

"stereotyped"

Muslims during the mock up at the Trafford Centre, near Manchester which was aimed at testing the emergency response to an extremist attack in the wake of ISIS led assaults on Paris and Brussels.
That very same day, the same paper reported:
Munich knife attack: One dead as man shouting

'Allahu Akbar'

attacks four at train station in Grafing, Germany
BERLIN — A 27-year-old German killed one man and injured three others with a knife while shouting "Allahu akbar" in a suburb of Munich early Tuesday, but hours later, after questioning him, the authorities said that he had no known links to Islamic extremism and that they believed he was mentally disturbed.
The attack, which occurred shortly before 5 a.m. on a commuter train and platform in the bucolic suburb of Grafing, nearly 20 miles east of Munich, shocked and unsettled many Germans who had already been on edge since the terrorist attacks in and around Paris on Nov. 13 and at an airport and a subway station in Brussels on March 22. The authorities responded swiftly to calls for help, and the man was arrested shortly after carrying out the attacks.
The lead investigator for the Bavarian state police, Lothar Köhler, told reporters on Tuesday afternoon that after initial questioning of the suspect, whom the authorities did not identify, officials had

no

"compelling evidence or plausible conclusions" as to a motive.
***
Let's wait and see whether the attacker was Buddhist, Jainist, Christian, Jewish, Hindu, Zoroastrian or Muslim. But the drill was spot on about what the terrorist would be shouting. A friend's comment was that he had never heard of a

terrorist shouting

[the Buddhist mantra]
"

Aum Mani Padme Hum

!"