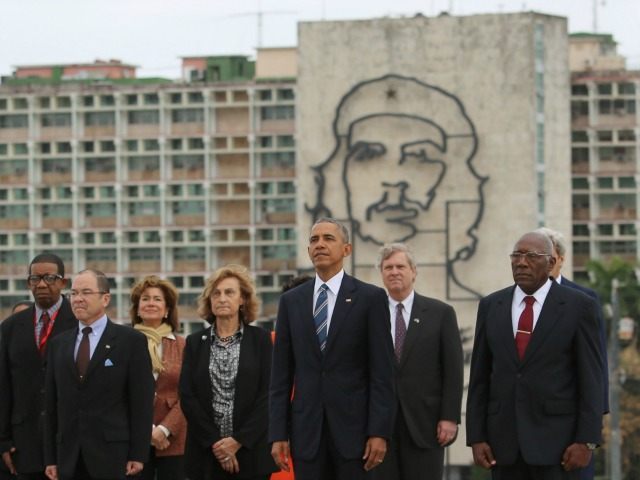 Obama deliberately wanted a photo of him be taken with Che Guevara in the background. It is not that he found himself in that position by accident.
Che Guevara was Fidel Castro's executioner.
Below

is the list of 159 Cubans executed by Che Guevara.
What is going on? Either Obama does not know who Che Guevara was or he agrees with what he did. Which is it?
EXECUTED BY CHE IN THE SIERRA MAESTRA MOUNTAINS
ARUSTIDIO
MANUEL CAPITAN
JUAN CHANG
EUTIMIO GUERRA
DIONISIO LEBRIGIO
JUAN LEBRIGIO
"EL NEGRO" NAPOLES
CHICHO OSORIO
TWO "UNIDENTIFIED'' ON APRIL 1957
EXECUTED BY CHE IN SANTA CLARA CITY
RAMON ALBA
JOSE BARROSO
JOAQUIN CASILLAS LUMPUY
FELIX CRUZ
HECTOR MIRABAL
J. MIRABAL
FELIX MONTANO
CORNELIO ROJAS
ALEJANDRO GARCIA OLAYON
ALEJANDRO ROJAS
VILALLA
EXECUTED BY CHE AT LA CABAÑA PRISON IN HAVANA
VILAU ABREU
HUMBERTO AGUIAR
GERMAN AGUIRRE
PELAYO ALAYON
JOSE LUIS ALFARO
PEDRO ALFARO
MARIANO ALONSO
JOSE ALVARO
ANIELLA
MARIO ARES POLO
JOSE RAMON BACALLAO
CEVERINO BARRIOS
EUGENIO BECKER
FRANCISCO BECKER
RAMON BISCET
ROBERTO CALZADILLA
EUFEMIO CANO
JUAN CAPOTE FIALLO
ANTONIO CARRALERO
GERTRUDIS CASTELLANOS
JOSE CASTAÑO QUEVEDO
RAUL CASTAÑO
EUFEMIO CHALA
JOSE CHAMACE
JOSE CHAMIZO
RAUL CLAUSELL
ANGEL CLAUSELL
DEMETRIO CLAUSELL
JOSE CLAUSELL
ELOY CONTRERAS
ROBERTO CORBO
EMILIO CRUZ
JUAN FELIPE CRUZ
ORESTES CRUZ
HUMBERTO CUEVAS
GERARDO CUNI ARANA
ANTONIO DE BECHE
MATEO DELGADO
ARMANDO DELGADO
RAMON DESPAIGNE
JOSE DIAZ CABEZAS
ANTONIO DUARTE
RAMON FERNANDEZ OJEDA
RUDY FERNANDEZ
FERRAN ALFONSO
SALVADOR FERRERO
VICTOR FIGUEREDO
EDUARDO FORTE
UGARDE GALAN
RAFAEL GARCIA MUÑIZ
ADALBERTO GARCIA
ALBERTO GARCIA
JACINTO GARCIA
EVELIO GASPAR
ARMADO GIL
JOSE GONZALEZ MALAGON
EVARISTO GONZALEZ
EZEQUIEL GONZALEZ
SECUNDINO GONZALEZ
RICARDO LUIS GRAU
OSCAR GUERRA
JULIAN HERNANDEZ
FRANCISCO HERNANDEZ LEYVA (father of Pepe Hernandez)
ANTONIO HERNANDEZ
GERARDO HERNANDEZ
OLEGARIO HERNANDEZ
SECUNDINO HERNANDEZ
JESUS INSUA
ENRIQUE IZQUIERDO
OSMIN JORRIN
SILVINO JUNCO
ENRIQUE LAROSA
IGNACIO LAAAPARRA
JESUS LAZO
ARIEL LIMA LAGO
RAUL LOPEZ VIDAL
ARMANDO MAS
ENERLIO MATA
ELPIDIO MEDEROS
JOSE MEDINAS
JOSE MESA
FIDEL MESQUIA
JUAN MILIAN
FRANCISCO MIRABAL
LUIS MIRABAL
ERNESTO MORALES
PEDRO MOREJON
DR. CARLOS MUIÑO
CESAR NECOLARDES ROJAS
VICTOR NECOLARDES ROJAS
JOSE NUÑEZ
VITERBO O'RREILLY
FELIX OVIEDO
MANUEL PANEQUE
PEDRO PEDROSO
RAFAEL PEDROSO
DIEGO PEREZ CUESTA
JUAN PEREZ
DIEGO PEREZ CRELA
JOSE POZO
EMILIO PUEBLA
ALFREDO PUPO
SECUNDINO RAMIREZ
RAMON RAMOS
PABLO RAVELO
RUBEN REY
MARIO RISQUELME
FERNANDO RIVERA
PABLO RIVERA
MANUEL RODRIGUEZ
MARCOS RODRIGUEZ
NEMESIO RODRIGUEZ
PABLO RODRIGUEZ
RICARDO RODRIGUEZ
JOSE SALDARA
PEDRO SANTANA
SERGIO SIERRA
JUAN SILVA
FAUSTO SILVA
ELPIDIO SOLER
JESUS SOSA BLANCO
RENATO SOSA
SERGIO SOSA
PEDRO SOTO
OSCAR SUAREZ
RAFAEL TARRAGO
TEODORO TELLEZ
FRANCISCO TELLEZ
JOSE TIN
FRANCISCO TRAVIESO
LEONARDO TRUJILLO
TRUJILLO
LUPE VALDES
MARCELINO VALDES
ANTONIO VALENTIN
MANUEL VAZQUEZ
VERDECIA
DAMASO ZAYAS